What High Schoolers are Wearing at RHHS: Senior Eimy Escobar
Hang on for a minute...we're trying to find some more stories you might like.
High-schoolers have it pretty rough. Just about seven total hours of constantly heading from point A to point B, staying up late and slaving away to several hours of homework, studying for quizzes and tests, and scrambling to meet deadlines are just a few of the daily tasks that fill up most teens' schedules. An average day in the life of a teenager in high school can be very physically and mentally draining. Along with the occasional dose of caffeine or finally getting to meet up with your friends at lunch, a major way in which teens can find serenity is in the way they dress. To many, clothes can mean more than just putting a hoodie and a pair of sweats on in the morning. The clothes worn can convey any image the one adorned by the garments is trying to portray. This series is designed to highlight those within our school that posses a distinct personal style. These students not only put an abundance of effort into the way in which they choose to dress, they also exude a particular confidence while rocking they're fit.
To kick off the series is, all-star veteran on the RHHS debate and dance team, Eimy Escobar. Just like all great things, personal style is tweaked and enhanced over time. In her fourth year at RHHS she has developed an adoration for cozy over-sized sweatshirts, insisting that "form-fitting tops are the worst things in the world." In the midst of my interview with her, she paired a grey over-sized crew neck sweatshirt with some solid black leggings and some white Nike runners. She also added a pop of color with some patterned-colored maroon socks. Despite the individuality expressed through Eimy's choice of socks for the day, then highlight of her outfit was a sold 14-kt. gold necklace with a stunning pendant. The pendant was a medium sized number 15 surrounded by several rose gold roses. This extra touch withing her outfit holds a special place in her heart, as it was a gift she received years ago for her Quinceanera. The piece obtains a beautiful and elegant edge withing her somewhat laid-back aesthetic. That type of look is exactly what Escobar adores, stating that the older styles of the Kardashian sisters is the look she tries to emulate. She also loves to imagine herself as a girl growing up in the 90's, wearing over-sized garments that depict a lot of bold colors and mixed-patterns. "I usually rock a pretty laid-back look. I love wearing sweatshirts that are very comfy, and I always make an effort to add my own personal touch to an ensemble of clothing, adding bold colors or really cool patterns here and there," said Escobar.
As my time with the senior came to an end, it was clear that she was very passionate about the clothing she wears and confident in the look that she portrays. As she anticipates college and he next big stages in her life, Eimy Escobar continues to find serenity in the way that she dresses, remaining comfy and confident as she looks forward to all life has to offer.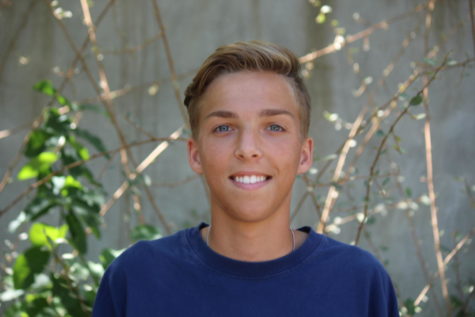 Harrison Downard, Writer
My name is Harrison Downard, an I was born in Evergreen, Colorado. Over the years, I've been heavily involved in my youth group at Central United Methodist...