Varsity Volleyball Falls to Southside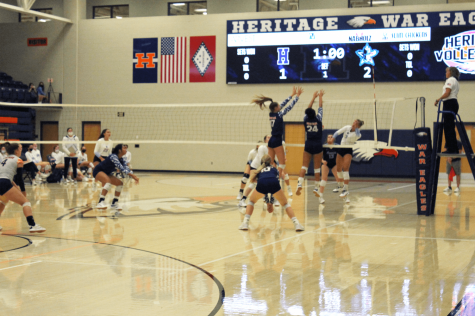 Tuesday night, the Heritage varsity volleyball team faced Southside at home, losing 16-25.  
Both playing outside, Emely Salinas (11) and Malaysia Hudson (11) were very passionate to try to take a win against Southside High School. 
"The game could've gone better if we played more as a team instead of individuals," Hudson said. 
Even though the girls didn't take the win there was still a highlight according to Salinas.
"Our defense was really good, they had a really good hitter and our passers were there, they got the ball and made a good play," she said.
"As a team we have to be more consistent in our offense and defense and just overall as a team as a team" Coach Melissa Danenhauer said. 
The War Eagles play at home again Tuesday, Sept. 21 at 6 p.m. (JV) and 7 p.m. (varsity) against Fayetteville.