Student Spotlight: Radhika Katke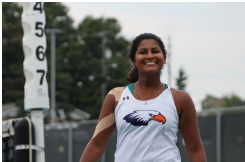 "GOAT" is how Berenice Portal, a sophomore at New Tech High School, would describe one of her close friends Radhika Katke. Berenice tells us that "GOAT" stands for Greatest of all time. Radhika Katke is a senior here at Heritage High School. She is involved in HOSA, Chik-fil-a leaders academy, varsity tennis, softball, and National Honor Society. Radhika is a leader who is "nice, funny, loving, and honest" according to Berenice, and one of her friends Will Zondlak. Will and Berenice have both gotten to know her through tennis, and have realized how good of a leader she is through that. Radhika is special because she is a great socializer. "I mean not only among friends. I'm not afraid to talk to strangers. This has helped me build relationships and become the leader I am today." Radhika uses this trait to her advantage and is a great leader to those around her.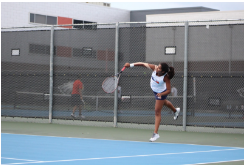 She competitively swam for eight years which she says helped her get out of her comfort zone, definitely not made her shy, and only fed her natural tick for socializing. Radhika has a little sister, and wants to be the best example for her, and be the best version of herself for her. "I hold myself to the same standard that I want her to be," Radhika tells us. Radhika plays a big part on the people around her too. Berenice said, "She had helped me to be a great person, and helped me with my troubles." Will, a senior at New Tech High School, totally agrees and said that she saved his life. "She saved my life when I left my wallet at the courts and she called me and brought it to my house." Through Radhika's ability to set herself as a good example for others, and talk to people, she is a great leader and has helped many around her.