Shots @BOSS
On March 2nd and 3rd, Heritage boys soccer went against Rogers High School in a tournament and defeated the Mounties. While an exciting win for Heritage, BOSS was quick to send out a congratulations via Twitter saying, "SHOUTOUT to our soccer team! They beat Rogers AND won their tournament! #ftt." BOSS stands for, Blue and Orange Student Section, a club at Heritage where everyone is welcome and they are known for their identical tees. It's purpose is to stand as a group and be able to support our athletic activities. Coach Wilson stands as the teacher involved, while Erica Reaser, Lora Brown, and Casey Castoe are the BOSS leaders.
Unfortunately, while people were happy about the win, BOSS' tweet left them with a different feeling. Some people didn't feel that athletic activities weren't treated fairly because girls soccer's tournament scores were not shared by BOSS. Felicity Auxier, a varsity soccer player for Heritage, was one of many to respond on Twitter letting BOSS know that,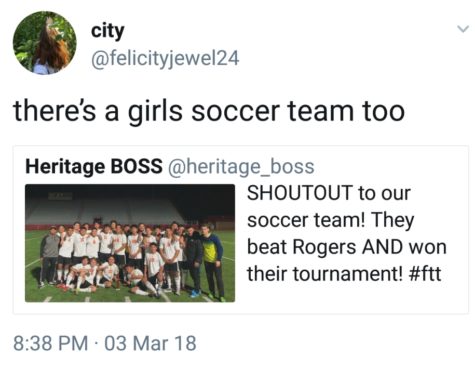 Macie Bowman, also a varsity soccer player for Heritage, said,

Bowman agreed to answer questions and was able to give her thoughts. When asked why girls soccer didn't have a Twitter account Bowman said, "not many people can see when other tweet things because of how many things are retweeted so we just decided to stick to Instagram." On the Heritage girls soccer Instagram, @hhsgirls_soccer, you'll find updates on their wins and photos of the team. Bowman said, "Every team should be recognized when they do good no matter what place they got, but I understand people not being aware of other sports."  At the end of the day, Bowman believes that the situation was a misunderstanding, not meaning to bash on BOSS, but to let them know that Heritage girls soccer exist.
Reaser, in reply to why other teams were not mentioned said,
While it's true that BOSS isn't obligated to report games, out of their 258 tweets, nearly all have something to do with games, whether that's acknowledging them or telling us the score. However, you don't see all of Heritage sports being mentioned. While the results of the boys soccer game was told, BOSS did not tweet out the results for girls soccer in their tournament. It seems that Reaser is one to post what she feels based on opinions, going as far as describing only the boys soccer win as a "big deal," and felt that it was worthy of recognition while others don't fit the standards.
Feeling as if they were treated unfair, even people outside of the girls soccer team could relate to Auxier and Bowman. Pricilla Perez, a senior at Heritage, tweeted how she felt in response to BOSS's tweet with, "Girls soccer is so amazing and should be recognized for that!" Perez was asked how she felt about the matter and said, "It's really frustrating that they didn't recognize girls soccer." Perez felt that if BOSS needed the score for girls soccer games, it would be easy to get by just asking their friends who run in the same social circle. "All I was trying to do was get them to recognize that they were being biased."
As of March 13th, the feud appears to have cooled off. BOSS tweeted, "Soccer games: highly recommend". This tweet was followed by a congratulations after boys and girls soccer hosted Van Buren on March 27th.