Saw You At The Pole
On Wednesday the 25th, FCA held the annual "See You At The Pole" event. The event hosted fifty-five students and faculty members in attendance, this event was a big hit at Heritage. Students came together to reflect on their year and pray for the future of students' lives, Heritage as a whole, and even the country. Christa May, 10, said, "It brings unity on the students to show that us Christians are all in this together." The event creates a sense of community and connects students that are unfamiliar with each other.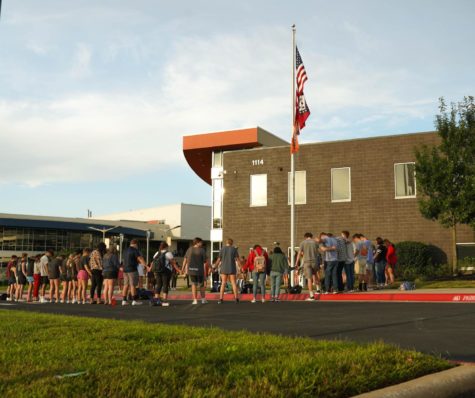 "I felt very encouraged knowing that so many people believe the same way I do, and want the same environment for our students, staff, and country," said Lexi Mays, 11. Mays and her fellow students in FCA cannot wait for next year. Even though this event only occurs once a year, Fellowship of Christian Athletes, the students that organize See You At the Pole, meets every Thursday morning in the lecture hall to discuss their faith.
 "It's a good reminder in my academic life that someone is watching over," Jason Kimball, 12, said. Kimball is a leader in FCA, and he encourages all students to come and see if FCA is for them.
"If you're going through any tough times, and you seem to be drifting away from God, come to FCA. Everyone is supportive; we're all here for anything you need, and it just takes a little devotion to make your day," said May.