Ready for the Chile Pepper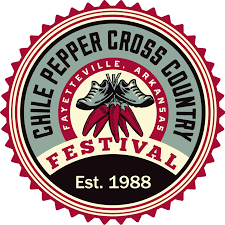 This year marked the 30th Annual Chile Pepper Cross Country Festival. This festival, established in 1988, was created by Joe Fennel, Randy Rhine and Kelly O'Meara. It was originally held in May and consisted of the 10k open run only.
Because of the popularity of the Chile Pepper Festival, other schools' cross country teams have started participating. In all, $650,000 has been donated to Northwest Arkansas cross country programs. In 2017 alone, the Chile Pepper Festival donated $77,000.
"I heard about cross country through my middle school math teacher, and I ended up loving it," said senior, Aidan Cantele.
Cross country helps students develop tenacity both in and out of the classroom. "Well, it teaches everybody [on the team] to be tougher and learn from your mistakes a lot. It also helps you know where your limit is and how to work harder to beat it," Cantele said.
Junior Abigal Pappas expressed how cross country helps her handle stress.   "I joined in middle school because I couldn't sleep and I needed to be tired, so I might as well join something that will make me tired, you know?," Pappas said.  "I ended up liking it a lot more than I thought I would. I expect our team to develop more as our training improves, and by the end of the year, become a stronger team all together."
The Chile Pepper Festival of 2018 welcomed around 120 high school teams, along with over 80 college teams. The event was held at the University of Arkansas' off-road course, and runners were invited to enjoy a hot Mexican food feast following the race.