How to Take the ACCUPLACER
Consider your college plan and decide if this welcome counterpart to other standardized tests is right for you.
Zack, Writer
January 31, 2019
If you're planning to pursue a traditional college education rather than head straight off to a university, the Accuplacer test is right up your alley.
Unlike the ACT and SAT, the Accuplacer is a completely untimed and uscheduled test, eliminating the additional stress present in its counterparts. "It's a better test for someone like me," said junior Richard Hann, "[who gets] totally inaccurate and stressed out when a test has a timer." Hann doesn't intend to go straight to university when he finishes high school, opting instead to attend NWACC. "Accuplacer is a good middle-man for kids who want their community college to set the stage for university," Hann said. "It's exactly what I'm looking for."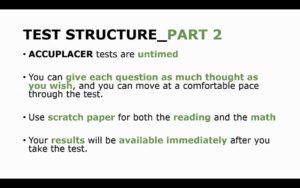 You can sign up to take the test by setting an appointment with your Heritage counselor, but before you do so, don't forget to take advantage of the numerous practice tests available to you at any time online. Like any standardized test, the Accuplacer isn't easy, so getting as much practice as possible before taking it is crucial to ensuring a satisfying score.
An important thing to discuss with your counselor is how right the Accuplacer is for you because in many cases, tests such as the ACT will have more bearing on your academic future. Take your college plan into account, so you can make the best decision. "It might not be for everyone," said Hann, "but it's definitely for me."
Interested in the Accuplacer test? For more tips and requirements for taking it, click here. Check out the official Accuplacer website for access to practice tests and further information.