Homecoming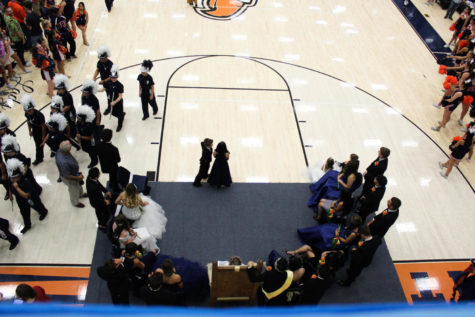 With Fall approaching, the Homecoming dance became the focus of many students and staff at Heritage. However, homecoming entails much more than just the dance. Without Student Council, Band, and Homecoming Court, the thrilling excitement for this event ceases to exist.
A member of Student Council, Alex Reinert, 11, loved getting the opportunity to work behind the scenes of the Homecoming Dance, and the week itself. "I was extremely excited to get involved with the school and help in any way I could. It made ⌊us⌋ come to appreciate just how much time and effort student council really puts into making these dances and assemblies possible," said Reinert. "Everybody was having a great time and I was so happy to be a part of making that happen." 
Along with Student Council, in order to create an enjoyable environment for students throughout homecoming week, the band works especially hard on their performance. "My favorite part is the parade. While this year I didn't march with my band, I absolutely loved marching through downtown playing for people who don't usually come to football games," said Gael Avalos, 12, Homecoming King. "The band has been working hard all week to clean and learn new sets, we have had extra afternoon practices all week long and worked harder to provide the best entertainment we can. It's all about our intensity, we crank our intensity up to 110%, especially since we have a competition the day after homecoming." 
Crowned Homecoming Princess at the assembly, Kiara Marquez, 11, glowed with happiness as she did not expect to win at all. To add to her amazing experience, her boyfriend, Giovanni Hernandez, accompanied her in becoming homecoming royalty. "This year's experience was amazing. What made it memorable was having the best escort, ⌊Giovanni Hernandez⌋, and having a supportive family that was super understanding. I was really shocked, but very grateful for those who voted," said Marquez.