Even High Schoolers Can Vote (If They're 18!)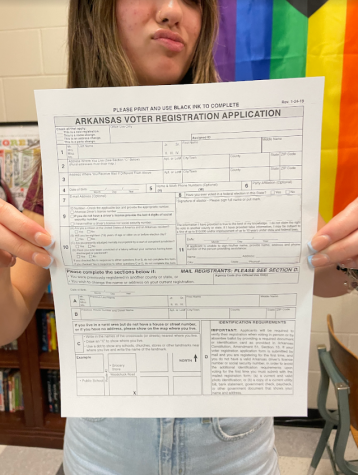 What are midterm elections?
Midterms are when we elect members of the House of Representatives and one third of the U.S. Senate. Midterms happen every two years in November. This year is a midterm year. 
Election day is Tuesday, Nov. 8, and the deadline to register to vote was Oct. 11. 
Voting registry is very important to do. You can register through mail or in person. Some states allow online registration, however, Arkansas does not. 
To register, you can print a form, fill it out, and mail or deliver it to a local election office. Benton County's election office is located at 215 East Central Ave Room 217, Bentonville, AR 72712.  
When asking seniors about the voting registry, many reveal they haven't yet thought about voting, much less registration. Unfortunately, these students wanted to remain anonymous. Some students were not aware what happened during the registration process. The registration process is relatively simple. You fill out this information:
Full name

Address of residence

Mailing address (if different from residence)

Date of birth

Phone numbers (optional)

Party affiliation (optional)

Email address (optional)

ID number

Citizenship status

Affirmation of legal voting age

Mental competency

Conviction information

Signature

Date
So, if you are in high school and you are 18+, it is strongly recommended to register to vote and actually vote. This is seen as a big step towards adulthood and that is why registering for voting is seen as a huge step towards maturing.