Freshman Stella De Vera Qualifies for State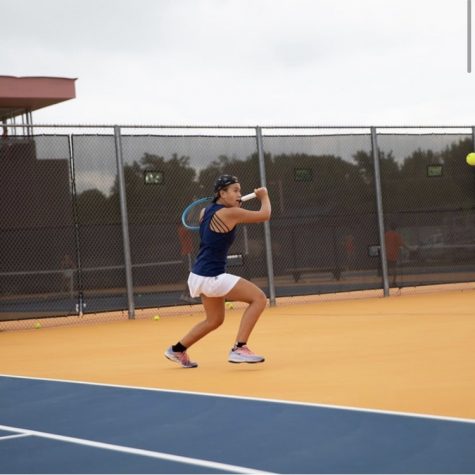 Freshman Stella De Vera qualified for the Arkansas Tennis State Tournament at the beginning of October. This achievement showcased De Vera's drive and passion for the sport and her impressive ability to perform deftly against much older competition.
While reviewing De Vera's first season of high school tennis, she mentioned aspects of playing for the school that differed from playing at Ozark Tennis Academy, a recreational club for competitive tennis.
"I enjoy high school tennis more because I get to see my friends grow after each practice," she said.
While at OTA she focuses on improving her technique and developing more as a tennis player. Her experience playing for two very different organizations helped Stella to become a versatile player and led to her triumph at conference.
When asked about her qualification for state, Stella said, "It feels super cool to go to state as a freshman!"
Rachel Holcomb, a junior on the tennis team, explained her experience playing as Stella's doubles partner.
She summed up her season playing with a freshman on the varsity team saying, "It's been fun! Her grade doesn't matter, just her attitude."
Holcomb emphasized that "she's a very good doubles partner" and mentioned that Stella has a deep understanding of the game. She added, "I love playing with Stella, she's really cool and I get along with her well. I'm proud of her, and I'm glad she made it!"
Coach Tinsley is eager to see De Vera's progression on the team. 
"She is quiet, but leads all of her teammates by example," Tinsley said about her role on the team.
He expressed how incredibly proud he is of her progression to State. Tinsley explained his hopes for Stella in the years to come.
"If she keeps working as hard as she has this year, I feel like Stella has the chance to compete for a state championship over the next 3 years," he said, adding that Stella is extremely competitive and has "a will to win".
Stella's determination to win has led to numerous success' in her time playing tennis. She has paved her way to become an incredible player with many victories under her belt. She credits her success to her friends and family who support her, and her many coaches who have disciplined and guided her throughout the years.