Community Service Opportunities at Heritage High School
Students at Heritage High School have the opportunity to transfer community service hours into credits for graduation. 
Depending on how many hours completed, credits can be earned. Seventy-five hours in total are needed in order to earn a credit. These hours can be earned by helping out local organizations or areas listed on the school website.
"It isn't required," said Tina McClure, a counselor at Heritage High School, "but it is highly recommended. It looks good on your transcript."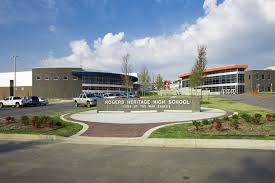 Despite the fact that it's recommended most students at HHS are not even aware of this possibility. 
 "Even though I have over two-hundred community service hours, I had no idea that it was possible," Junior Abigail Wilkinson said.
Once a student has completed the required seventy-five hours, filling out an online form through the Heritage website is the next step to finishing the process. This is to record any progress made or a completed set of hours. 
When a student inputs information, they must ensure all of it is honest and accurate. False information is not tolerated whatsoever and could result in serious trouble.
After completing the form, the student's transcript will automatically be updated to fit the amount of community work and a credit will be given in replacement.