Binge Worthy, On My Block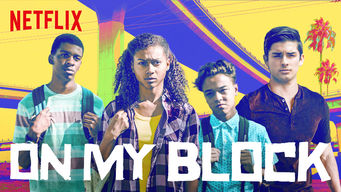 Hang on for a minute...we're trying to find some more stories you might like.
Spoiler's ahead 
Netflix's original show, On My Block, features four best friends on their journey to their first year of high school.  They must navigate through the trickery of growing up, and becoming young adults. On My Block's main characters are Monse, Ruby, Cesar, and Jamal. The group being friends since "fourth grade." The setting is in a made up city known as "FreeRidge" in a primarily black and hispanic neighborhood of South Central Los Angeles. The group will shortly face challenges within their "family" as Monse and Cesar of them fall in love, and Cesar is forced to become a gang member. Ruby has to find away to become more independent from his controlling, yet loving mother, and Jamal becomes obsessed with solving a known theory/conspiracy named "Roller World." The question of the groups safety always poking their self conscious due to Cesar's new lifestyle. The "fam" is tested in more ways than they can think of, and find being apart from each other challenging.
The humor in this series is amazing, but the character's lack a good foundation of acting. It is also told a little out of sequence, and can be hard to keep up with. Overall, this show is enticing, humorous, loving, and a great depiction of growing up. The ending left me shocked, and yearning for more. It was tragic,  sorrowful, and heartbreaking. The cliffhanger left me crying, and in shambles.
The show first aired in March of this year, and a renewal for season 2 has already been confirmed.