A Change in Leadership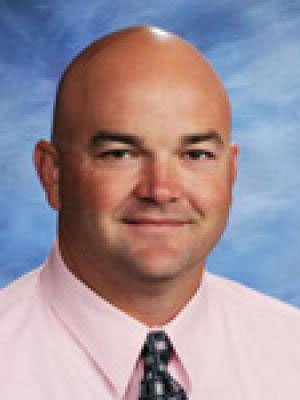 As the majority of the community knows, Heritage High School's principal, Karen Steen, will be transferring to Crossroads Alternative School to serve as their principal upon the conclusion of this school year. The person who will now claim the throne will be Jim Davis. Coming from Arizona school districts, he has an impressive 23 year track record including several years as a superintendent. He has received various awards for his background of extensive community service and for his amazingly low dropout rate, under one percent. In early April, he came to visit Heritage and began learning the War Eagle way.
"I grew up in the state of Oklahoma and went to high school in Oklahoma. I then went to Tabor College in Kansas where I played baseball and met my wife," Davis said.  "I went and finished my degree in Arizona at Grand Canyon University." The education background he acquires has made him a prime candidate to be Heritage's principal. "I have 23 years of experience. I have been an assistant principal and principal of a large high school in Arizona. I am a superintendent of six campuses," said Davis.
Having a mentor helps Davis navigate the pressures of the job. "I had my superintendent that was in my district where I was the principal. He was and still is my mentor. I go to breakfast with him every other month and it is really nice to have someone with such good experience and knowledge, but is also just a good person." He continued on how important he is to him: "Anytime you are responsible for over 2,000 students and hundreds of employees…you are handling peoples' lives, and it becomes especially challenging when you care for them."
These weren't the only challenges he faced that lead him to where he is today. "When I was in first grade, my father was killed in a car accident, and from first grade on, I was raised by a single mom, who was an elementary teacher," Davis said.  "That moment in my life challenged me internally to do the best in whatever I pursue. Knowing that something is taken away from you, you have two choices. You can either give up and fail at everything that you do, or you can take it and use it to make yourself a better person."
Mr. Davis chose the later. "I want to be the best husband. I want to be the best father. I want to be the best educator. I want to be the best community member," said Davis.  "I definitely plan on being involved in the community. As an educator, you have to be a part of the community because I don't run the school, the community does, and I am just thrilled to be a part of the culture that you guys are building here."
As Heritage High School begins it's second decade, Mr. Davis is eager and ready to step into the driver's seat. "My approach to Heritage is I want to be interactive. I want to be visible to the students and staff and I want to be their number one advocate for their success. I want to build a relationship with the wonderful people here while honoring Heritage's traditions and successes," said Davis.
Mr. Davis had the opportunity to meet with in-season coaches during their weekly coaches meeting.  "My first impression was he is very motivated, and never seems to not want to strive for better," Skye Stover, Head Girls Soccer Coach, said. "As a coach I am excited because he seems to promote all sports. He wants to be involved at all of the events and he is supportive of all the coaching ideals."  Principal Davis will soon learn that we have potential in our school athletics.
Freshman Alonzo Hernandez got to meet Principal Davis during one of his Student Council meetings.  "I first thought, 'Wow. This guy is really passionate.' Arizona is pretty far away, and I was blown away that he came to visit Heritage. He's definitely going to be more hands-on," Hernandez said, "He plans on raising school spirit and he also emphasizes the importance of the student voice. I think pep rallies are going to be more fun and more common in the following years. I'm just as excited as I am hopeful for the next three years."
We can all take encouragement from this, and we can push to be better academically, athletically, and be the ideal school among the other ones in Northwest Arkansas. As Principal Davis said, "The best years of Heritage are in front of us."