9th Grade Volleyball Drops Match to Central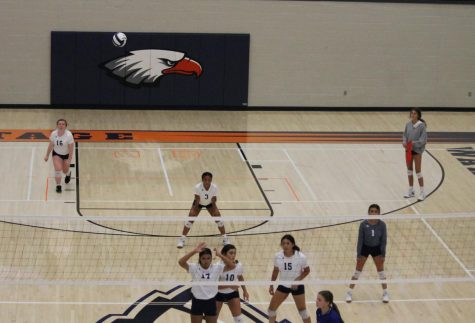 On the afternoon of Sept. 16, the 9th grade volleyball team lost to Central. The game consisted of four sets, in which Heritage War Eagles won the third set (25-23). With each set, the War Eagles were really close, but in the end, Central played harder and unfortunately took the win.
"We definitely got in our heads quite a bit. I feel like if we had talked and communicated, we could have had a chance of getting higher points. I think we did amazing with minor errors playing Central. Moving towards this season I am excited to work together and play with my team in the future. I am eager to see how the team performs," outside hitter, Jastin Ware (4) said. 
"We are all very proud of how the War Eagles played that night. They gave it their all and worked hard and had strong attitudes about keeping alive their winning streak. Even though Heritage did not win, they definitely gave Central a good game. 
"In my opinion, I believe we could have made less errors but I mean, we still did pretty good playing Central, considering they are one of the top teams, but I think that if we had communicated better we could have won. Moving forwards toward this season I definitely want to get in my head less and be more of a team player." Outside/Defensive Specialist, Katie Roebuck (20) said.
¨We could have talked more. We did get in our head a lot, but other than that I think we did good overall," said Maki Amor ( I think our performance was a little sloppy but I think that we worked hard and played hard. I'm excited to keep working with my team and keep moving forward in the games that are to come in the future.¨Left back and outside, Maki Amor (3) said
Although Central had left undefeated, the girls knew they could have won. They had some room for improvement but overall, they played really well. And they have many games left to get back at their streak. We talked to their coach and her opinion over her team and the game. 
"Overall we did a great job with our player, our outside hitter, Jastin Ware, and our setter, Josie, we kept working hard to keep the ball on the floor, but Central finished faster than we did. We could have fixed our serve. We were a little bit slow. We really haven't been focused  on that in practice because we have been working on hitting. So our serve receive could have been a lot better, but overall we did very well just that when it comes to finishing the set we tend to back down instead of competing and getting to 25 first. We are working on being competitive and learning great habits so we can take that to the next level whether we are playing JV/V so we are trying to create that culture and  mindset where we can win even though the odds were against us." Coach Davis said.
We have seen the ladies take the dub before and we'll see it again. Heritage volleyball will have their next home game on Thursday, Sept. 21 JV/V will face Fayetteville and 9th grade volleyball will play against White, from 5-8 p.m. make sure to show up and support the girls!