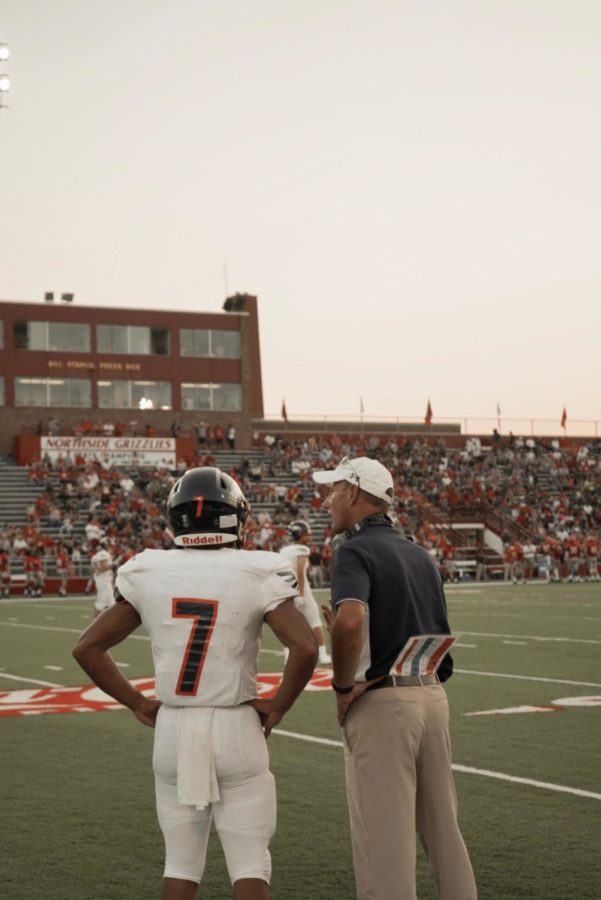 The 2018-2019 school year for Heritage High School is now underway. That means the time for Heritage Football is here! The Heritage War Eagles faced off against the Northside Grizzlies on 8/24. The starting quarterback, Zach Brown, had some input on the expectations of the team previous to their first game. "The team as a whole need to go out and do their role. If everyone plays their role, then we will walk away from the game knowing we gave it our best effort," said Brown. "We have gotten closer since last season. Unlike last year, almost all of the starters this year are leaders for the other players on the roster."
The beginning of each year brings hope for the upcoming season. "I would like if the team would start at its peak. I hope that we will start the season off running and see where it takes us," said Brown.
Head Coach Tony Travis offers an alternative view. "I hope the team peaks later in the season, towards playoffs. We want to improve every Friday night so we can become a playoff team,"said Travis.
Coaching staff transitions have influenced the overall team dynamic. "It moved some of the coaches around. With that, it provides different viewpoints and new energy," said Travis.  "With Coach Bethel now at defensive coordinator, we are in an entire new scheme: switching from a four front to a three front. We are excited to get out there and see how it works out."
The outcome of the first game was far from ideal with the War Eagles losing 69-0 to Northside. Within the last week JV defeated Fayetteville 35-6, Freshmen defeated Van Buren 24-0, and Lingle defeated Oakdale, both feeder programs for HHS. The future for HHS War Eagle Football is bright! Tonight the War Eagles take on Little Rock Central. Kick off is at 7 p.m. at Gates Stadium.