Football Spotlight: Griffin Brown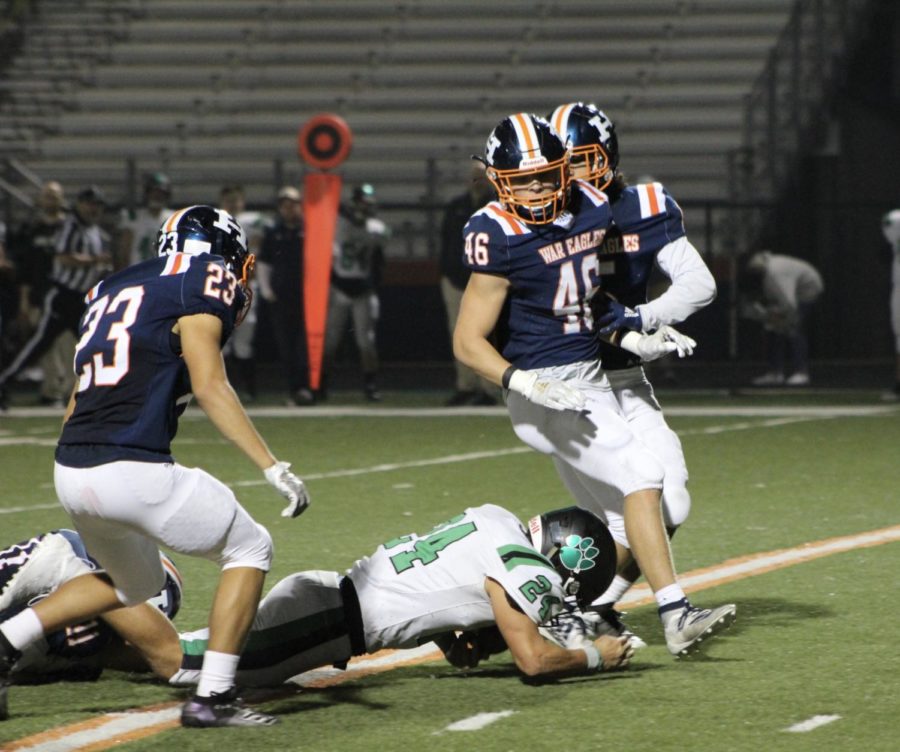 Lexi Prince
November 1, 2019
Griffin Brown, number 46,  is seen by many as the hype man of our football team by making game-changing plays and filling everyone with positive energy. Making a single tackle and keeping the opposing team from gaining yardage leads our team and all of the supporting BOSS members to go wild. He always does his part in every game, to prevent any touchdowns from occurring. "I play linebacker and I get a lot of tackles so I keep them from scoring," said Griffin Brown, 12.
While practice plays a huge part in his performance, Brown also always gives 100 percent of his effort, showing his heart on the field with him. "He plays with a high motor and never gives up and keeps playing hard all the time," said Defensive Coordinator Jack Keith.
Brown always keeps a positive attitude and gives constructive criticism to his teammates.  His positive energy rubs off on his teammates, improving the way they play. "Griffin always has a good attitude and he's always trying to make other people better besides himself," said Brady Laird, 10.
Laird isn't the only teammate that feels this way. "Sometimes if we're not doing so hot at half time he's the one to step up and talk us into it and make sure that we're always doing our job," said Zane Garner, 10. "He just flies around everywhere [and] always right near the play when it's made. He's always the one guy you see getting up from the tackle."
With the season coming to an end soon, Griffin is making big decisions on what his future career may look like. "Right now I am not planning on playing after high school, but if there were to be offers from the collegiate level, I would like to go to UCA," Brown said.