Calm and Collected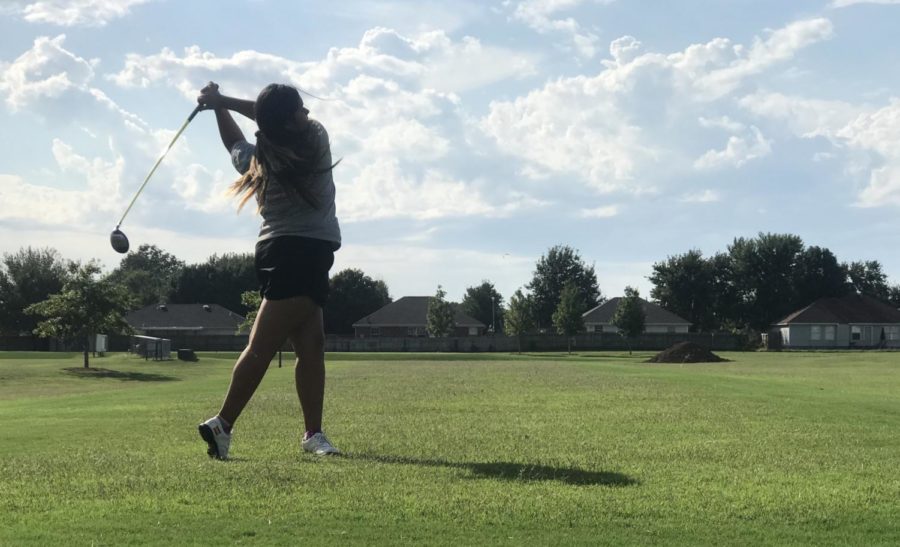 Isaac Raya, Author
November 18, 2019
With the 2019-20 season nearing an end, the Heritage Women's Golf team prepared for their state golf tournament hosted at Fayetteville Country Club on September 30-October 2. 
Megan Lucas, 9, and her teammates get ready at The First Tee where they practice their range shots, putting, swings, and working on their hip angle. "I warm up and stretch" said Lucas. "Many people think stretching may not be a big part of golf but without stretching you can tear many things such as your rotator cuff which is the tendon that surrounds your shoulder."
Although physical preparation takes a great significance in playing, mental preparation does so as well. To do this it's always best to think positive and keep your head in the game. "I try to focus on what is going on at the moment and try not to worry about what people think," said Lucas.
Kennedy Walters, 12, believes that the little things help put one in the right mindset, helping her give her best effort. "I try to listen to positive quotes and just relax and calm down," said Walters. "[Then] I am ready to go out on the field and play."
Walters qualified for the second day of state by posting a score of 85. She put up that same score the following day, finishing 5th in the state.
Traveling from Arkansas to Little Rock, the Heritage Boys Golf team competed at state. The team brought six of their players down to play at the Greens of North Hills. "It was a good experience because we got to travel to a new golf coarse and see what it was like to play with multiple teams at once instead of just a couple," said Parker Davis, 12.
Playing on an unknown coarse can be very difficult, but that didn't  prevent the boys from having fun. "It was rough at the beginning when we didn't know the course, but it was a fun time," said Hunter Brunell,11. The tournament ended with an overall score of 373.